Diabetes App for Android, iPhone, PC & Online
SiDiary 6.2 and CGMS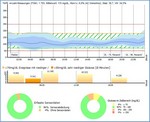 With the current version of SiDiary there are new features like an AGP-graphic, a calendar-graphic and an improved display of your time in the line area ("Time in range"). Together with the improved usage on Windows Tablets and the fresher layout with bright colors there is also a better evaluation of FGM/CGM systems like the Abbott Freestyle Libre, the Freestyle Navigator or the CGM systems from Dexcom.
Rating of the PC diabetes software since June 2016
SiDiary and Windows 10

Occasionally users are inquiring whether SiDiary works with Windows 10. The good news: Yes, of course it works. Regardless of whether you use your Windows 10 as a 32bit or 64bit version: SiDiary will aid you there in documenting your health data.
We are proud to introduce SiDiary version6!
After two years of development we are proud to present a new milestone in diabetes management software. SiDiary 6 provides you with an up-to-date tool of diabetes management and telemonitoring.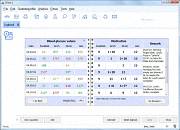 Due to the more user-friendly program surface it is much more fun to deal with the diabetes data. SiDiary 6 represents a product designed for diabetics by diabetics.
Many functions have been optimized, such as the data import from blood glucose meters, insulin pumps or blood pressure meters. Data, which was manually entered and imported from well-established blood glucose meters, can be synchronized between all mobile devices and is available for analysis and statistics.
SiDiary worldwide for more than 20 languages


















SINOVO provides native support for German, English and Spanish language with the headquarter and the sales office in Spain. Use SiDiary for your personal diabetes management with your PC, PPC, Smartphone, cell phone or online in your browser. Import data from almost all kind of meters or insulin pumps.
SiDiary - Diabetes log book built by people with diabetes

Check out SiDiary Online for free. Track and analyze your diabetes data and print the log book online with your internet browser.